A Royal Food Truck in Los Angeles
Food trucks are common in California. We can see almost all types of food and beverages sold by food truck owners in California. There are snacks from fries to burgers and some also sell meals good for breakfast, lunch or dinner. Some sells dessert and beverages from your regular ice cream to rolled ice cream and from a regular fruit shake to a very delicious frappe. But why does food truck became so popular? Well, maybe because there are people who are always on the go and wanted to have something fast but does not want to have a regular fast food meal. Food trucks are like your favorite restaurant made more accessible. Also, this is a good business venture since it has a lower cost when it comes to paying rents, maintenance of the facility and personnel since there is no need for you to hire servers or a lot of kitchen and restaurant crew.
No matter how young or old you are or whether you have a big or small budget, you may venture into a food truck business as long as you know what you want and has the right equipment you need for the type of food you will be selling. With this fact, we may see young college students, old couple, a known chef and a lot more that starting their own food truck business. Well, we normally see food trucks owners as a regular person or a commoner- no power in the government but what will you do if the food truck owner and the one who will be serving your food is a royalty? It may seem odd, but it may happen and actually, it is already happening. There is really nothing impossible in California as you may find the food truck run by a prince in this state!
https://www.flashfunders.com/princeofvenice
Prince of Venice is a food truck owned by a prince. This food truck may be found in different locations around Los Angeles daily. We know you are curious and wanted to know who the prince behind this food truck is. Well, he is Prince Emanuele Filiberto di Savoia. He is the grandson of the last reigning king of Italy who was deposed in 1946. Emanuele Filiberto spent his first 30 years exiled in Switzerland until a change in Italian law allowed the would-be Crown Prince to visit Italy in 2002. Aside from being a former prince, he also became a soccer commentator, host, presenter and the first male winner in Italy's version of "Dancing with the Stars" in 2009. Isn't he one talented and hardworking guy?! Plus, he is also active in charity through Prince of Venice Foundation and Emanuele Filiberto Charity Fund Foundation.
https://www.yelp.com/biz/prince-of-venice-food-truck-los-angeles-2
Prince Emanuele Filiberto is a frequent visitor in Los Angeles and had been amazed with the food truck business around the city. But, since he had been to the place often and had tried a lot food from food trucks, he have felt that there is something missing in the food truck industry in the place. This is why he has teamed with acclaimed Milan-born L.A. chef Mirko Paderno to fill in that missing piece.
http://www.discovering-la.com/prince-of-venice-fresh-pasta/
He had noticed that the food trucks in LA are mostly serving pizza, Panini and regular pasta dishes so he wanted to give something different yet delicious. He had a goal in serving gourmet and fresh Italian pasta with authentic recipes and high quality ingredients! Well, we are aware that pasta in Italy are really good, so there's no doubt that this food truck can serve delightful pasta dishes. Since it is a food truck, the customers may see how fresh the ingredients are and how well they prepare their orders. Also, what's amazing with this is that their pasta sauces are handmade so you can assure that it is with the highest quality. Some of their ingredients are imported from Italy but some are from the local farms in Southern California to make sure that everything they is fresh and mostly organic.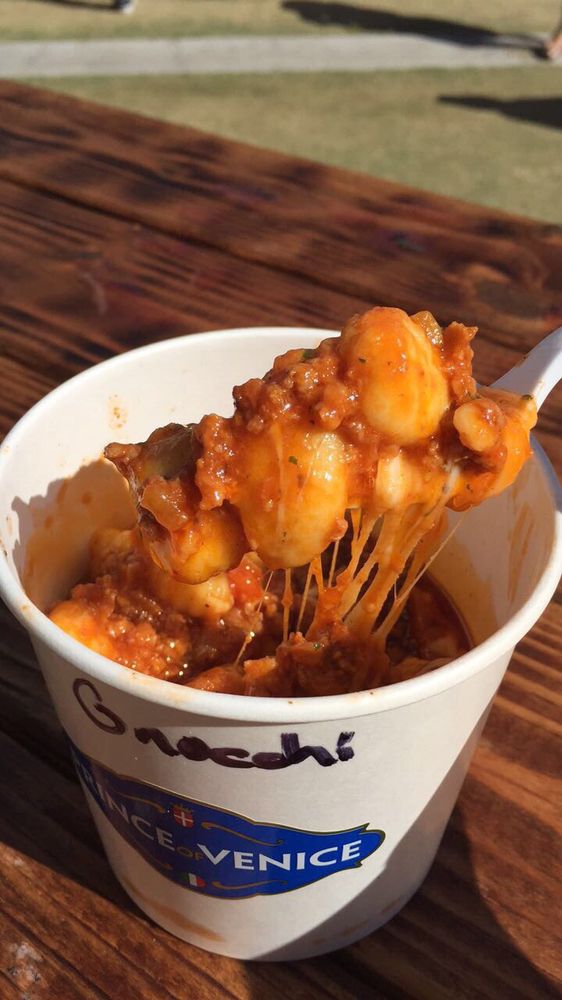 https://twitter.com/povfoodtruck
Aside from pasta, you may also find delicious dessert being served in this food truck such as tiramisù, panna cotta and cannoli. And to complete your meal, they also serve beverages including a well-known brand in Italian water. In the future they are also planning to add salads to their menu plus the chance for their customers to buy raw pasta and their sauces for them to be able to make it at home anytime they want to.
So what are you waiting for? Go and try this royal treat!