A Historical Hotel That Made Summer Meet Winter

Christmas season is near, a season full of love and happiness. Well, this is one of the best time to spend time with your loved ones as this is one of the few holidays where school and work are off for some days! Just as what Burton Hills said, "The best of all gifts around any Christmas tree: the presence of a happy family all wrapped up in each other." So, why don't we take this bonding moment to the next level? Besides, Christmas only come once a year! Let's go enjoy and savour the moment!

Now, looking for the best place to spend Christmas vacation is never easy. We have to think of everyone who we'll be spending this time with. We must remember that the place we will choose is a place where everyone will enjoy. It must be a hassle free vacation for everyone as well! It's really hard to look for a place where the likes of the different generation- grandparents, parents, children- meets. Well, there are a lot of places out there but Hotel Del Coronado might be the finest fit.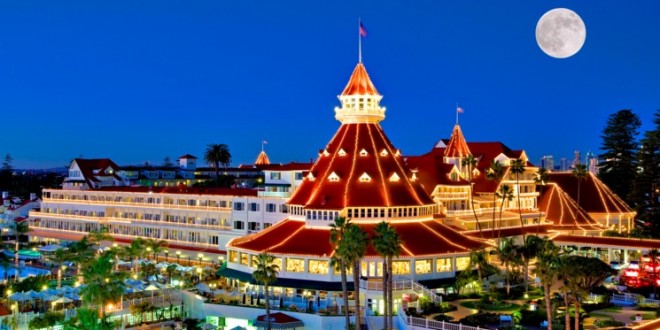 https://downtownrob.com/coronado-island-film-festival/

Hotel Del Coronado, most popularly known as The Del, has been standing since 1888. Hotel del Coronado known as an architectural masterpiece, much-admired for its spectacular seaside setting and world-famous weather. Seaside resorts might not be new in America during the 19th century, but the Del is one of the biggest and has this unique one-of-a-kind sweeping silhouette- which made it recognizable in the whole country and the world. Wouldn't grandma and grandpa like that?! As this place will give every visitor a glimpse of history and showcase the country's rich culture and tradition.
https://www.thrillist.com/venue/eat/san-diego/restaurants/crown-room-at-hotel-del-coronado

Today, The Del is a popular place to spend your holidays at as it offers variety of activities and places for you and your family to enjoy. Are you a type of person who wants to dine on a place that match your mood? Well, The Del had it covered! If you want to have a beach feel dining but still doesn't want to eat on a sandy ground, 1500 Ocean and Sheerwater are your options. Want to have a classy dine in? Or you just want to have a romantic dinner with your wife? The Crown Room is the best place for you! Craving for an Italian taste or just wanted a snack? Try Eno, an artisan pizzeria and wine bar. Want a taste of Mexican food and a casual outdoor feel? Sun deck will be the best place for you and your friends! Hey, these are just few places for you to dine at, there's more when you get there! They also have a salon and spa where mom and dad can relax. They also have activities for all ages- painting, yoga, biking, boating, bonfires and a whole lot more!

Aside from all of these, there's something that The Del offers during Christmas season that you might not be able to resist. Have you ever seen summer with winter? Well, The Del made that possible! Skating by the Sea® will be back for its 13th year on Hotel del Coronado on November 13 to January 1. This ice rink is located at the Windsor Lawn. The place features the ever so wonderful view of the Pacific and Coronado beach. Well, wouldn't you want to try that? The mix of the cold ice rink and the breeze from the sea in one! But hey, your little ones will also have this fairytale like feel as the Victorian Building surrounded with thousands of lights provides a magical backdrop while skating! So, if you think you missed summer or will be missing winter, this will be the best place for you! Well, there's more to this. The location of the rink will also allow you to have a wonderful view of one of the most wonderful sunset, surrounded by pleasing holiday music- so much feels.
https://hoteldel.com/activities/skating/
But, it is not for free at is comes in a reasonable price of $30 per person and ice skate rentals are included. Season passes are also available. Skate times may be limited to 90 minutes based on capacity. But remember, it is just for some time and skating reservations must be made prior to your arrival.

To help you plan, here's skating by the sea schedule:
SKATING BY THE SEA® SCHEDULE
Thanksgiving Holidays
Thanksgiving (Nov. 23): 11am – 9pm
Day After Thanksgiving (Nov 24): 10am – 10pm

Nov 25– Dec 17*
Weekdays: 4pm – 10pm
Saturdays: 10am – 10pm
Sundays: 11am – 8pm

*Tuesday December 5 the rink is reserved for Make a Wish Family Skate Night.

Dec 18 – 31
Mondays to Fridays: 10am – 10pm
Saturdays: 10am –9pm
Sundays: 11am-8pm (includes Christmas Eve and New Year's Eve)

Christmas Day (Dec 25): 11am -9pm

New Year's Day (Jan 1): 11am – 9pm

As per The Del, this holiday season they will transform into the ultimate winter wonderland – SoCal style. So, what are you waiting for? Go and enjoy your holiday at The Del!