Hamburger might be the coolest and one of the most delicious sandwich ever made! The mixture of every flavor seem to explode inside the mouth in every bite. This might be the reason why almost everyone loves eating it and why most diners have this in their menu. And also, this is one of the best comfort food ever!
Because of our love for burgers, there are now several kinds of burgers in the market. Even the vegetarians do not want to miss this out that's why there are veggie burgers. When it comes to the regular hamburger meat, one diner is always different from the other. This makes it hard for us to choose which diner is worth trying. To make it easier for you, we have searched for the best hamburgers sold around California. On the list you will see our top twenty five.  
Double Double, In N Out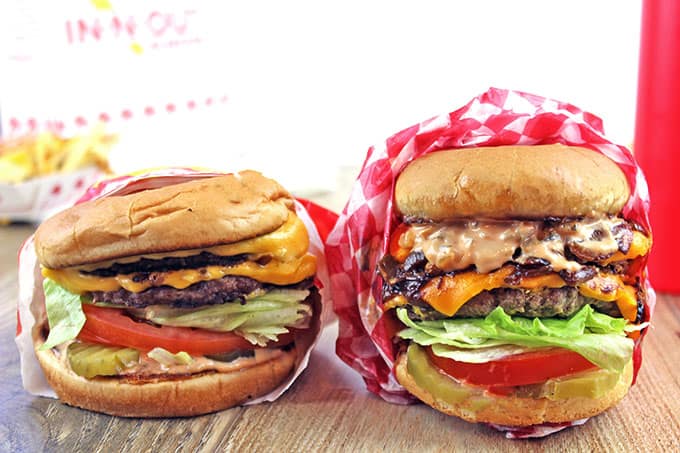 https://dinnerthendessert.com/in-n-out-cheeseburger/
In N Out is a true California favorite. If there is such a thing as "state's fastfood/diner", this might be it. And this placed reached that spot because of their awesome meals. One of the must try burger is their Double Double. Double patty and cheese simply means double the fun and the taste! The fresh lettuce, tomatoes and onions definitely made this better! It's classic but two times more delicious!
Shackburger, Shake Shack
https://www.thrillist.com/news/nation/shake-shack-burger-recipe-shackburger
This diner is one of the booming diners around Los Angeles, so if you want to out their burgers, then you must be patient in standing in line. Once you reach the counter, order for their Shackburger. It might be a classic burger that can be served with or without cheese but it's juiciness and flavor is really something to love.
Drive In Cheeseburger with grilled onion, Garaje
https://www.placesiveeaten.com/blog/garaje-burger
Garaje is a place that will give you a blast from the past. Their walls are filled with vintage items that matched their seats and tables. Plus, they used old-fashioned lamps that added to the rustic feel. But, the atmosphere of the place is not just the only thing you'll go back for but also their food- especially their Drive In Cheeseburger with grilled onion. The soft bun, pickles, juicy meat, well-grilled onions and very tasty sauce are things that made this burger on top.
Hamburger with American, Pie 'N' Burger
https://www.pinterest.ph/foothilltransit/line-187-eats/
In all the list we saw online, this diner and their Hamburger with American has been in all of it. That simply means that this is really a classic favorite and is a sure hit. This burger is a regular hamburger with thin buns, Thousand Island dressing, pickles, meat and lettuce. Nothing too special to look at but every bite is really worth it! The bums where toasted and a little buttery so it complimented all the flavors well.
Black Sands Burger, Black Sands Brewery
https://www.thrillist.com/eat/san-francisco/burger-quest-san-francisco-best-hamburger-restaurants
Black Sands Brewery is designed and created by home brewers and with that we can easily say that there are beers and other drinks in the place. But, it's not just the beer that you might want to keep coming back for but also their burger. Everything about this burger is great. Each bite was so flavorful that you won't even think that this is one of the states underrated diners.
The Burger, Father's Office
https://tummydiary.wordpress.com/tag/fathers-office/
We know that most of you will be looking for this diner on our list. Why? Simply because it is really one of the best we can find. It was in all the list we read. It is also one of the most controversial burger around California for the past years. But then again, the fact that it made most of the list basically means that this casual looking burger is really very tasty.
The All American, Wesburger 'N' More
http://www.wesburgernmore.com/
With this diner's name, you can really tell how much they love serving burgers. They even have the tag line "because burgers are fun." Well, they really made every burger fun and worth eating especially their All American burger. It's just a classic burger with 6 oz patty but the special sauce matched with American cheese made it stand out from the other burgers in their menu.
The Trick Dog, Trick Dog
https://insidescoopsf.sfgate.com/blog/2013/03/06/wimpy-wednesday-the-trick-dog/
The Trick Dog is also one of those diners which have an old fashioned feel. This makes it really cozy and welcoming to guests of all ages. And if you are into burgers, you will find some here as well. Once you ordered their Trick Dog, you will really feel that you were tricked. Why? Because this burger looked like a hotdog sandwich but if you look closely it is made with beef chuck and brisket. To top the flavor is their house sauce that is really delectable!
Best Damn Grass Fed Cheeseburger, 4505 Burgers & Bbq
https://www.yelp.com/biz_photos/4505-meats-san-francisco-7?select=NJYcGy6EuxbaY82e0hPTNw
This diner has been known in San Francisco because of their awesome freshly bakes buns. And, one of their must try burger is this Best Damn Grass Fed Cheeseburger. Well, the name is inviting enough for you to try but we can assure you that you won't regret spending every cent you have for it! This is made from quarter pound grass fed beef patty with lettuce, onion, Gruyere cheese, and secret sauce on a buttery, griddled sesame & scallion bun.
Cheeseburger with American and grilled onions, Cassell's
http://www.laweekly.com/restaurants/the-best-burgers-in-los-angeles-8346444
This place is also a part of every list. This old school reinvented diner is a suitable place for family and friends to dine in. And if you're going to order a burger, you might want to try their Cheeseburger with American and grilled onions. Their premium house ground patty is really sensational and their Portuguese buns is really something to look out for!
Wood Grilled Burger, Nopa
https://aht.seriouseats.com/2012/02/nopa-burger-review-san-francisco-ca.html
Nopa is a great place to eat your favorite meals. This is why they state that their place is "A San Francisco Gathering Place." It was very spacious and can hold several people in their place. Yet, it is still really comfy and fun place. Once you find a seat, go and order for their Wood Grilled Burger. It looks pretty plain because it only has a patty, pickles and buns. But the sauce on the patty is really something.
South Burger, South
https://www.sacbee.com/food-drink/restaurants/carla-meyer/article22529952.html
Located in Sacramento, this place is really worth finding. This place has one of the best burgers around town but you must look for it if you are not a local. They don't have any sign and is located on a random street so if you found it, good for you! To match your effort, try and order their South Burger. It has bacon, mustard, pickles and more that made it burst out with amazing flavors.
The Spruce Burger, The Spruce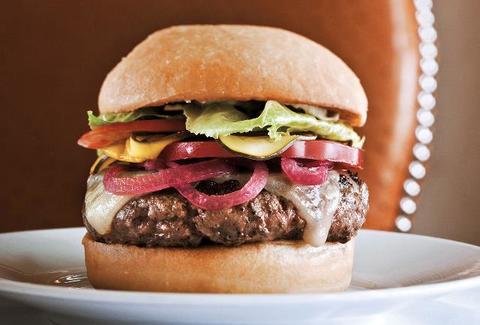 https://www.thrillist.com/venue/eat/san-francisco/restaurants/spruce
The Spruce is a place for fine dining. From the outside, you will immediately feel how classy the place is. But since burger is one of America's favorite food, they also have one in this restaurant. This is so delicious that it can be lined with all the most popular burger diners but in a fine dining way.
Hickory Burger, The Apple Pan
https://www.laweekly.com/restaurants/30-burgers-in-30-days-apple-pan-keeps-on-truckin-day-7-2378009
The Apple Pan is a counter only place where you can order burgers and pies. It's been in Los Angeles for decades and has not change much. The Apple Pan's signature Hickory Burger is a juicy round of hickory-smoked ground beef with a standard bun and a very delicious special sauce. You might want to try their mouthwatering steak burger as well.
Hamburger, Zuni Café
http://foodanddrink1208.blogspot.com/2015/06/hlfd-in-sf-zuni-cafe.html
Zuni Café is a classic San Francisco restaurant whose menus are inspired by seasonal organic ingredients and incorporate traditional French and Italian cuisine.  This café also serve a hamburger that is a lunch-only grass-fed burger that is ground in-house, medium-lean, and comes on grilled rosemary focaccia slathered with aïoli.
Beef Burger at Mo Better Burger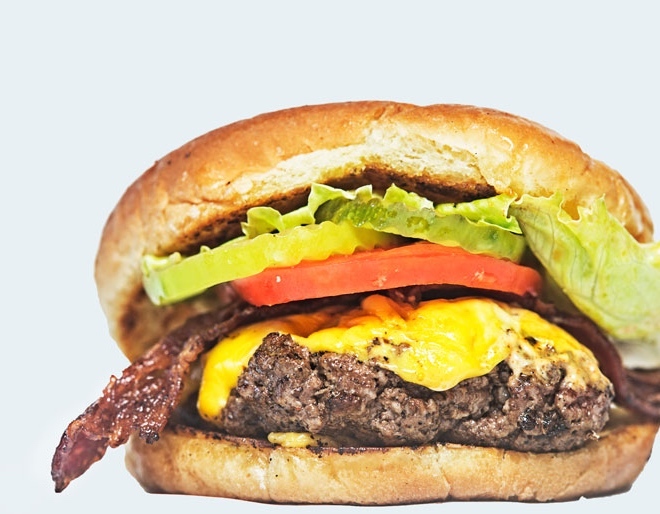 https://www.timeout.com/los-angeles/restaurants/the-best-burger-restaurants-in-los-angeles
Here at Mo Better Burger, you may customize your burger depending on your desired mix. And if you are into beef, we are telling you that your burger will be worth the wait. You may choose from 3 oz or 5oz beef and add your favorite toppings. It will also be up to you if you want to put mustard, mayo, pickles and more to your burger. You may also ask their staff for some classic mix. One thing's for sure, everything blends well with each other.
The Burger, The Golden State
https://www.thrillist.com/eat/los-angeles/best-burgers-in-los-angeles
The name is simple but the burger is wonderful! This Golden State diner stay true to itself and really deserve to hold the name it has. The Burger is made from Harris Ranch beef, cheddar cheese, applewood smoked bacon which is very tasty, ketchup and other sauce. This comes with yummy fries as well.
Half Pound Niman Ranch Cheeseburger, Mustards Grill
https://www.pinterest.ph/pin/823525481831256696/
If a half pound cheeseburger is not too inviting for you, we do not know what could. This burger from Mustard grill is very big and juicy that it can make your tummy fill full even without eating the whole meal. But, we are sure that you wouldn't want to miss those fries and onion rings on the side as well. Prepare your tummy!
Cheeseburger, Everson Royce Bar
https://de.discoverlosangeles.com/blog/top-must-try-burgers-los-angeles
If you love stargazing or you enjoy dining in an open table restaurant, then this is a good place for you! They have set tables in a roofless place with some lights around for good lighting and better ambiance. They also have indoor tables for those whose not into those types of seating. But, what's more to this place is there tasty cheeseburger. It's really not inviting to look at but from your first up to your last bite, all you will say is that it's amazing!
Fast Burger, Belcampo Meat Co.
http://www.laweekly.com/restaurants/belcampos-fast-burger-is-only-5-5169307
Belcampo Meat Co. is another list favorite. This diner is really popular when it comes to their burger. In this restaurant you'll find Organic, grass-fed meat that's raised on their own CA farm, processed in their own butchery, hand cut by own butchers. You can be sure that their meals are with the best quality and freshness. Their burger is made with thin buns that made all the other ingredients stand out.
Double Bacon Cheeseburger, Hodad's
https://www.yelp.com/biz_photos/hodads-san-diego-8?select=-1X-NN8Rh51nLJUo_giK8g
Hodad's can be found in two locations in San Diego and is one of the town's most popular burger destination. If you want to order a burger from this place, then the Double Bacon Cheeseburger is a must try. This has two patties stacked with mayo, mustard, ketchup, onion, pickles, lettuce, tomato, cheese, and bacon- all your favorite in one!
Motley Bleu 2.0, Dog Haus
https://www.pinterest.ph/doghausdogs/haus-burgers/
The Dog Haus is a popular place for hotdogs and sausages but did you know that they also serve one of the most delectable burgers in California? Well, most of their burger offerings are killers but the burger that really made its impact is the Motley Bleu 2.0. t's made from 100 percent natural Black Angus beef patty and tops it with bacon, "bleu sriracha," lettuce, "soy-racha" onions, tomato, and white American cheese, all between two halves of a French bread-like bun.
Fontina Black Truffle Burger, Cecconi's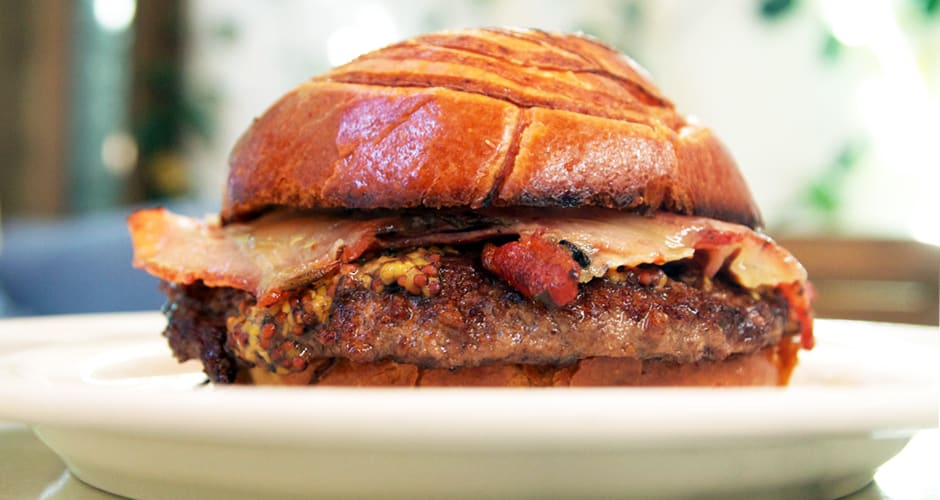 https://firstwefeast.com/eat/2014/05/best-burgers-los-angeles/
Cecconi is a great place to dine if you want to spend a formal dinner with the family or a really romantic date with your special someone. This place also serves the most sophisticated burger you can find, the Fontina Black Truffle Burger. A thin patty that is draped with plenty of truffled fontina and a folded slice of griddled pancetta.
Cheeseburger, Gott's Roadside
https://aht.seriouseats.com/2012/05/gotts-roadside-burger-review-st-helena-ca.html
Gott's Roadside is one of the most popular burger sellers in the state. They have several burgers in their menu that you will all love. They also made sure that they will bring you a juicy, big and excellently tasty beef patties. One of the must try is their California cheeseburger. It's made with Fried egg, swiss cheese, Zoe's bacon, arugula, balsamic onions and mayo on a toasted egg bun.
F.T.W, Grill Em All
https://www.brandeating.com/2013/03/local-review-grill-em-all-ftw.html
Grill 'Em All is a place to find tasty and really unique burger and fries. This place is the best venue to find your most favorite comfort foods and they really made it more interesting and savory. Our most favorite burger her is the F.T.W burger. It's just a big juicy burger on a bun with cheese, simple but is really a winner!
This list is not arrange from top to bottom but was made to be in random order because we do understand the fact that we all have different taste in the food we eat. But, we can assure that this contained the best burgers you can find in the state. Burger's that you won't regret trying out. We know that there are more, let us know which one is your favorite whether it's on the list or not! Grab that sensational burger now!