Going to the beach is one of the best way to relax. The sound of the waves, the color of the sea, the soft sand and the view of the sun and the sky is just mesmerizing. This are just few of the main reasons why almost everybody loves spending some time in the beach. Yet, all the swimming, walking, sun bathing and playing can be tiring and dehydrating. So, we must not forget to take some time off to eat and drink.
We know that you wouldn't want to move far from your spot and miss the gorgeous view of the beach. So, we have searched for 25 restaurants which has the best view of the beach. Whether you're planning to swim or not, we're sure you'll love dining in this must-try restaurants.
https://lajollamom.com/brockton-villa-coast-toast-recipe/
Located in La Jolla, this restaurant is an open table diner that is best for small family dinner or reception. If you are planning to dine in in the place, you will be sure that you will have the best view of the beach. But, the diner is only capable to hold 100 persons, so be sure to be there first!
Malibu Farm
https://www.yelp.com/biz_photos/malibu-farm-restaurant-malibu?select=3Lg7_KTBEam6obDDKtuHlQ
If you want to enjoy a healthy, fresh and organic ingredients that is locally sourced, then Malibu Farm is the place for you. This Malibu based restaurants is such a cozy place to dine in. Its soft seats facing the beach is really worth the stay.
Lahaina Beach House
https://www.californiabeaches.com/restaurant/lahaina-beach-club/
Snug and a cash only diner, this place serves the best snacks around San Diego and facing the Pacific. It's an open deck diner where in you may dine in or take out your meal. If you want to seat down for a while in this place, be sure to come early because this is one of the local's favorite.
Terrazza Lounge
https://www.hotelcasadelmar.com/dining/terrazza-lounge
Inside Santa Monica's Casa del Mar hotel, you will find Terrezza Lounge hat serves delicious Italian treat and meals. They also offer craft beer and American brunch such as waffles. This restaurant has an enchanting view of Santa Monica Beach. The place is relaxing so dining alone or with your loved ones will certainly be great.
https://www.dukeshuntington.com/
Named after the famous surfer Duke Kahanamoku, this restaurant located in Huntington Beach is a place for Instagrammable meals. The place looks very simple yet soothing. The wooden chairs and tables makes it a comfortable place to eat. It has large glass walls that will showcase the view of the beach.
https://lajollamom.com/cusp-restaurant-la-jolla/
Rooftop dining is always amazing. And if you want one with the view of the sea, then Cusp Dining and Drinks is the place to be. The window tables in this restaurant will give you a view of the Pacific Ocean. You will surely enjoy every bite of their fresh coastal cuisine.
https://www.tripadvisor.com/LocationPhotoDirectLink-g32678-d2318021-i257690596-The_Strand_House-Manhattan_Beach_California.html
If you are into a pierside treat, then The Strand House is the place for you. This restaurant serves the classic American favorite mac and cheese and other most love treats such as pizza. They also serve cocktails that is beach friendly so you can still enjoy the view and a short walk after.
https://www.georgesatthecove.com/ocean-terrace
Also located in La Jolla, this restaurant serves high-end cuisine that will fit any meeting or special occasion perfectly. The food might be high end but the place remained cozy. It is an open table dining with a gorgeous view of the Pacific Ocean.
http://www.blkearthseaspiritshb.com/
Located in Huntington's Pierside Pavilion, this restaurant is the best place for those who wants to have something heavy. They serve steak, Japanese Wagyu and other mouthwatering meals. As you eat, you will surely enjoy the view of the palm trees, the sea and the sunset.
https://www.thrillist.com/venue/eat/san-diego/restaurants/jakes-del-mar
Once you dine in this restaurant, you will eventually feel that you are eating on the beach sand and not on an actual restaurant. This is virtually on the sand so that you will still feel as relaxed and comfy as you were in the beach.
https://www.geoffreysmalibu.com/
If you're planning to spend the next Valentine's day on the beach or you want to propose to your girl, then Geoffrey's Malibu is the place to be. It is a classy fine-dining restaurant located in Malibu. It has outdoor seats with umbrellas so you'll have an breathtaking view of the beach.
Watertable in Hyatt Regency Huntington Beach
https://www.hyatt.com/corporate/restaurants/Watertable/en/Watertable/Gallery.html
Inside the Hyatt Regency Huntington Beach, you will see this old-world inspired restaurant. Around the restaurant you will notice some large arched windows that will give you a view of the sea. This restaurant serves some beach favorites such as grilled meat.
JRDN
http://www.citysearch.com/profile/41931787/san_diego_ca/jrdn_restaurant.html
This restaurant near the Pacific is known for its "Sunset Table." This place has a fireplace in the patio so even if the cold breeze of air blew, you will not feel too cold because this fireplace can make the surrounding feel warm.
https://www.glassdoor.com/Photos/Specialty-Restaurants-Office-Photos-IMG1040228.htm
If you want a glass of whiskey paired with your favorite barbeque then this is the place for you to go. You can have seat next to the fire pit which will give you warmth as you sit and drink while watching the sunset.
A&O Kitchen+Bar
https://www.visitnewportbeach.com/restaurants/ao-kitchen-bar/
This is a gastro pub located in Newport Beach. This has a rustic inspired interior which makes it a very convenient place to drink and dine. Take the patio seating for you to enjoy the view of the beach and those luxurious yachts.
https://www.pacificadelmar.com/gallery/
For seafood lovers, this is the place to be. These rooftop restaurant has an amazing view of the sunset and when the sky starts to get dark, you will enjoy the view of the stars in the sky and the lights on the ground. This is said to be one of the most sought after view in San Diego.
https://yovenice.com/2016/11/16/venice-connects-for-a-whaler-of-a-time/
This is a laid back restaurant located in Venice Fishing Pier that is really worth finding. The upper deck is the best place to seat in if you want a complete view of the beach. You will enjoy California's favorite taco, avocado and more in this place.
Splashes
https://www.yelp.com/biz/splashes-restaurant-laguna-beach
Located in Laguna Beach's Surf and Sand Resort, this restaurant serves delightful seafood dishes that you will surely comeback for. As you eat, you will see the waves on the beach. The sound and splash will make your dine more soothing.
https://101thingstodosw.com/san-diego/food-drink/poseidon-on-the-beach/
This restaurant is worth paying a visit due to its delectable seafood treat and other local favorite. This has an outdoor seating so you can enjoy the sea breaze and view and indoor seating for a more casual stay.
https://www.discoverlosangeles.com/what-to-do/restaurants/nobu-malibu
This restaurant is one of the favorite spots of celebrities in Malibu. This is because of the awesome view it offer plus the really soft and comfy seating. This luxurious restaurant serves your favorite sushi and wagyu that you wouldn't want to miss out.
Raya
http://www.ritzcarlton.com/en/hotels/california/laguna-niguel/dining/raya
If you want a Latin cuisine then try out Raya in Ritz Carlton. It has large floor to ceiling glass windows that will give you a stunning ocean view. The ambiance of the dining area really compliments the surrounding of the place.
http://www.character32.com/c32-globetrotter-blog/2017/5/16/great-places-to-eat-in-laguna-beach-orange-county-the-deck-and-active-culture
With the name itself, you can easily imagine what type of seating this restaurant offers. This is located on the beach front so wherever you choose to sit, you will have a view of the ocean. This restaurant specializes on seafood meals and you can ensure that each meal will be served fresh. You do not have to worry because ample heat lamps and umbrellas will let you enjoy the great outdoors.
The Loft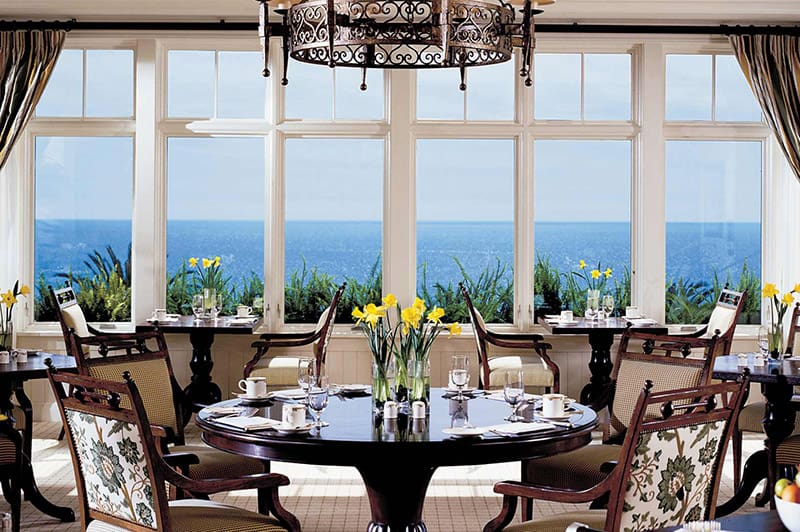 https://www.montagehotels.com/lagunabeach/dining/private-dining/
This restaurant will really showcase the wonderful gift of Mother Nature to humans. The large windows in the restaurant will give you a view of the Pacific Ocean and a sight of palm trees, bushes and other plants around the area. This place has expedient seating and somegood music which makes it a great place to spend a good dinner with your friends.
Mosaic Bar and Grille

https://www.montagehotels.com/lagunabeach/dining/mosaic/
This is a poolside restaurant which also has a view of the beach. It is a few step away from the beach so the atmosphere on this restaurant is as calming as seating on the beach sand. Also, this restaurant made sure that you will see all earth's element in one place.
http://www.playaprovisions.com/
Last but not the list is one of the simplest yet most fun ocean view spots that you should try. You will see different type of seating in this place but all complimented each other and gave a laid back rustic style to the restaurant. This is a great place for families to dine it since it has some entertainment for the young ones and treats for the elderly.
So, this is it for now. We have found a lot of restaurants with gorgeous beach sides but those on the list really caught our attention. If you still have something in mind or you have tried another restaurant that is not on the list that you think deserve a spot here, then please let us know. We love to hear your comments so feel free to send your suggestions and reactions to us! Happy dining!